If you've had experience rowing or coxing, be sure to come along to our Senior Trials. You will have a chance to meet and row with our current seniors, get a feel for who you will be rowing with, and check out the club and equipment. Please contact us for more information.
For experienced rowers or those that are new to rowing but have sculled previously, training is coordinated by the men's and women's captains alongside a full time coach. Training programs are tailored to the individual squads under the direction of the coaching team.
Water training
Outings take place from our boathouse in Chiswick on Wednesdays, Saturdays and Sundays throughout the season. Additional water sessions can also be organised in preparation for important races and in June we run a more intense program in the lead up to Henley Royal Regatta and Henley Women's Regatta.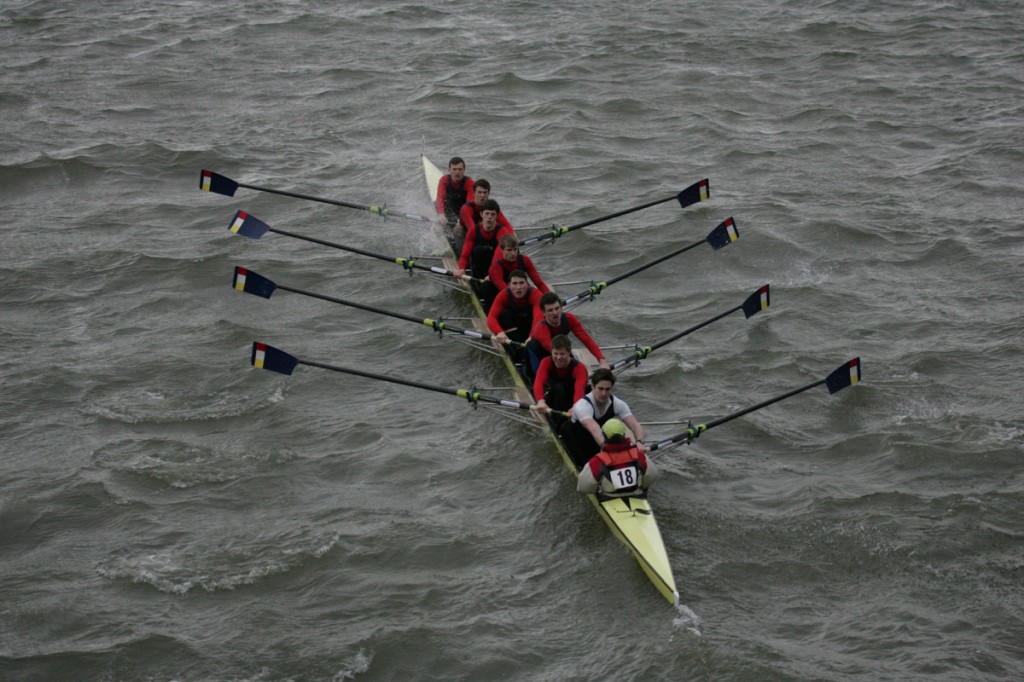 Facilities at the boat house include a fully kitted out gym, club room with bar and KCLBC's privately owned fleet of boats. For those with sculling experience we also have club singles and doubles, with the option of taking them to events such as BUCS regatta.
Land training
The benefit of a thorough land training program is enormous and as such, whatever your standard, you will be expected to take part in land training to boost your fitness. The number and type of sessions varies throughout the season and includes circuit training sessions, ergos and weight training.
Circuits
Circuits currently run in Boland House, Guy's campus. These are tough sessions but the motivation that comes from training in a large group is massive and they are an excellent way to rapidly improve your fitness whilst getting to know the rest of the squad.
Ergos
KCLBC has expanded its ergo facilities and now has eight Concept 2 indoor rowing machines located in the West Wing, Guy's Campus. Men's and women's squads have dedicated erg sessions throughout the week but outside of these times the machines are free for all members to use.
Weights
Boat Club members are heavily encouraged to undertake weight training programmes to further support ergo and water sessions.
Training camps
During the course of the year the men's and women's squads run several training camps in the run up to the major events, including the Tideway Heads and BUCS. These are tough weeks but the improvement seen from intensive training is enormous. Where possible these camps take place away from the Tideway, in particular making use of the facilities at Dorney Lake.
Racing
London Intercollegiate racing
For many years King's has been the dominant force amongst the colleges and medical schools of the University of London. Racing is run by the United Hospitals Boat Club and all events are held on tideway. The UH Bumps are the highlight of the summer term, a fun style of racing that is rarely seen outside of Oxford and Cambridge, don't be fooled by the fancy dress at the bottom end of the draw – winning is a serious matter!
British Rowing Heads and Regattas
KCLBC is in the prime position to enter all the main Tideway Head races as well as travelling further afield during the summer to compete in regattas such as the Heineken Roeivierkamp, Reading Amateur, Marlow International and the Metropolitan.

Socials
Rowing at King's is not all hard work! We go on regular pilgrimages to student bars after training on Wednesdays and put on club meals at the boat house, not to mention annual events to include Cambridge Tour, Club Cocktails, Christmas Dinner, Club Curry, AGM and the infamous pudding races.