Are you starting at KCL and want to get involved with KCLBC? Come along to our Freshers Barbecue to find out more - find our stall at the Freshers Fair to sign up for information, or see our Facebook Freshers Group for event details. Its a great opportunity to meet the current members, get out in a boat and enjoy a fun night out with the club after!
The best way to stay up-to-date with what's going on at KCLBC is to sign up to our Facebook Page. If you can't find what you're looking for, let us know dropping us an email.

What's on offer
Training runs throughout the week with sessions tailored to suit fresher teams, senior teams and whole squad fitness sessions. Whether you enjoy rowing to relax, want to get fit quick or you are committed to reaching the highest levels of competition, we have a comprehensive range of sessions on offer. Anyone with previous rowing or coxing experience should check out the seniors page and sign up for senior trials at the Freshers Fair.
Learn to Row
Takes place at our boat house on the banks of the Thames overlooking the finish line of the Oxford and Cambridge Boat Race. We are lucky enough to share the boat house with Tideway Scullers School which is home to many of the country's top oarsmen including several Olympic medallists.
Water training for novices usually takes place at the boat house at weekends and Wednesday afternoons; everyone who is interested in rowing is encouraged to attend as many training sessions as possible to ensure a good grasp of basic technique.
Land Training
Alongside rowing on the Thames, a suggested training plan will incorporate a range of cross-training, circuits, weights and 'ergs'. Our boat house hosts a fully kitted gym and erg room however for convenience most land training takes place on campus. Many students choose to join KCL's gym, one based in Waterloo and a brand new one opening at London Bridge with open access to both, however this is not mandatory.
Run throughout the year at Guy's Campus, circuits is a great opportunity to improve fitness whilst bringing together the men's, women's and freshers squads for group training.Be warned – these are tough sessions but the motivation that comes from training in a large group is massive and as such they are an excellent way to rapidly improve your fitness whilst getting to know the rest of the squad.
The club also owns 8 Concept 2 indoor rowing machines (ergos) which are kept in the West Wing of Guys Campus. Those who are committed to excelling at the sport will quickly develop a love/hate relationship with these machines. For those who just want to improve their fitness, no other cardio machine comes close to exercising as many muscle groups simultaneously. Your Fresher Captains will dedicate novice ergo sessions each week to teach you the best technique and help you get more out of your exercise.
Socials
KCLBC runs by a work hard play, hard moto. We will kick start the year at the Fresher BBQ following on with an evening at the infamous walkabout. Every week we go on regular pilgrimages to London's finest student bar, Guy's Bar, after training on Wednesdays. We also have regular dry socials, e.g. bowling, which provide just as much entertainment minus the brutal headache the following morning.
Our annual events to include Cambridge Tour, Club Cocktails, Christmas Dinner and Pudding ra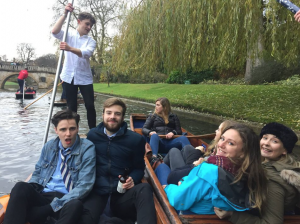 ces, Club Curry Night, AGM and the Henley Royal Regatta Picnic. The Cambridge tour is a  gin themed event which occurs over a weekend in November. It will include the first race you will participate in as a rower yet the highlights of the weekend include the evening curry, the picnic and punting along the river Cam! Events such as Cocktail Night and Summer/Christmas Dinner will give you the opportunity to swap your lycra for your finest evening wear and enjoy and night of good food and wine and toast to the previous term's success.
---