As winter falls, KCLBC set out on our annual Cambridge tour. Wrapped up warm, the squad boarded the coach at an obscenely early hour Saturday morning to arrive in Cambridge before the sunrise.
Before racing commenced, our new fresher 8+ was christened David Best. David is a huge support to the club and uses his free time when he is not rowing at TSS to transport our boats to many events. We are very grateful for his past and present contributions to the club.
The Senior women had two 8+'s and three 4+'s entered across the day. In the first category the 1st 8+ finished 6th in a time of 10:24mins. Our 2nd 8+ finished in a time of 11:06mins to place 4th in category 2. The women's 4+'s finished 2nd (category 2), 4th and 5th (category 1) in a time of  12:02, 11:46 and 11:54 minutes respectively.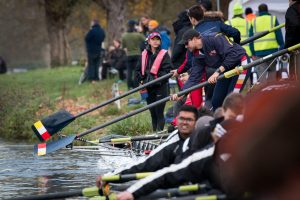 Our Senior men's eight were 13th overall in the head (9th in category 1) with 9:04 minutes. The 4+'s placed 6th and 9th in category 1 in a time of 10:07 and 10:16 and 5th and 8th, 10:25 and 12:03 minutes, in category 2. A fantastic start for most of the squad's first race of the season.
Marking the first race of many for our new rowers, we had 6 fresher boats entered. The women's boats placed 9th, 10th and 12th and the men placed 5th, 9th and 11th in their beginner categories.
We were overjoyed to welcome back some of our Junipers (alumni), who got together to form a Men's 4+ and Women's 8+ and make a return to the river. Although classed as invitational and unable to win a pennant, the men were as competitive as ever and stormed down the river in a time of 10:07 (=77th overall). The official colours for the Juniper (alumni) Boat Club is leopard print, and they were sporting their colours in force (see picrures below). For old times sake the Juniper women sported tour tops from their fresher years. They finished in 10:28 minutes (just shy of top 100).
By 4pm on Saturday the racing may have been over but the tour was only just beginning. After waving goodbye to the trailer the squad retreated to the hotel for a rest bite before getting ready for the standard curry feast; this years fancy dress code – emerGINcy services. On Sunday morning, weary eyed from the evening's antics, everyone was treated to a full english breakfast before enjoying a day of punting, picnics and bailies hot chocolates!
Another fantastic weekend, as KCLBC moves from strength to strength.